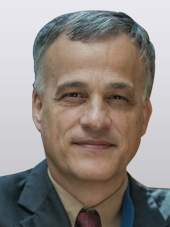 Fernández-Real, José Manuel
Institut d'Investigació Biomèdica de Girona (IdIBGi), Girona, Spain.
Dr. Fernández-Real received his M.D. and Ph.D. degrees from University of Barcelona, Spain. Since then, he has been researching in chronic inflammation, iron metabolism and insulin resistance. He has published 389 articles indexed in PubMed, of which 102 as first author and 118 as last author (corresponding author). He is Principal Investigator of >20 competitive National and International competitive Projects (continuously since 1993) and is a former member of the Editorial Board of Diabetes Care and Clinical Chemistry, among others. He was among the very first authors to propose chronic low grade inflammation in the pathophysiology of type 2 diabetes, obesity and insulin resistance and iron stores as a component of the metabolic syndrome. The interplay of the microbiota with all these elements is also an important line of research. He has been recently invited to talk about his research in the Annual Meeting of the American Diabetes Association (San Francisco 2015), the Endocrine Society (Boston 2016) and the American Society of Nutrition (San Diego 2016), in addition to invited conferences in meetings from European Association for the study of Diabetes (Lisbon 2011), Endocrinology (Budapest 2012), Obesity (Sofia 2014) and Nutrition (Prague 2016). He is currently Associate Professor in the Faculty of Medicine (University of Girona), Director of Research in the Department of Endocrinology, and Scientific Director of the "Fat Bank", a nation-wide Biobank specialized in adipose tissue samples. He is Principal Investigator and member of the Steering Committee of the CIBERobn, a Network of Excellence in the Research of Obesity in Spain.